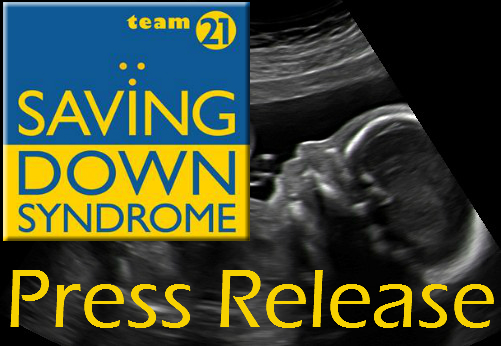 PRESS RELEASE 1 OCTOBER 2015 – For immediate release
New UK Downs test should be deferred due to ethical concerns
An international social justice advocacy for people with Down syndrome is calling on the NHS to defer any decisions on the proposal to introduce a new pregnancy test for the condition until a full ethical review is carried out in accordance with international disability rights obligations.
Saving Down Syndrome UK spokeswoman, Lynn Murray explains:
"The NHS is proposing the implementation of the new cfDNA, or NIPT, test into the national screening programme.  The proposal is likely to have a significant negative impact on the Down syndrome community, including further reductions in births. However the NHS has failed to consider the ethical implications of the proposal on our community. This fails to meet the UK's obligations under the United Nations Convention on the Rights of Persons with Disabilities (CRPD)".
Mrs Murray explained that an area of particular concern is that people with Down syndrome have not been consulted on the proposal, despite the clear impact it will have on their basic human rights, and this being a specific requirement under the CRPD.
Saving Down syndrome is also concerned that the NHS proposal indicates an increase in overall harm despite messaging that the test is "safer". The NHS's own consultation documents indicate a net increase in pregnancy loss of 67 per year, with an increase of 92 involving Down syndrome and a decrease of 25 other pregnancies.
"We are particularly concerned that there is a discriminatory assumption that the reduction of miscarriages is positive (and it is) whilst an increased loss of Down syndrome pregnancies is not a concern, and would even seem to be an objective given the focus on increasing detection rates", explained Mrs Murray.

Mrs Murray concluded that  "There are no positive health benefits being offered under the proposal. While we would welcome anything that improves the quality of care for pregnant women, introducing NIPT as part of a national screening programme to "improve performance" actually means that more unborn babies lives may be lost with no other health benefit".  

ENDS
Lynn Murray, UK Spokeswoman, email: [email protected]
Click here for a copy of our submission on the NHS proposal.
For more information on Saving Down Syndrome, see our website www.savingdownsyndrome.com and Facebook page www.facebook.com/savingdowns
Further information:
The National Screening Committee

submissions

on implementation of second-line cfDNA screening (NIPT – non-invasive prenatal testing) closed Friday and a decision is expected from the committee in early November. Proposal is being

presented as a measure to reduce number of miscarriages from invasive testing

.

National Institute for Health and Research RAPID evaluation

study projects that proposed implementation will result in 102 more Down Syndrome foetuses being identified each year and based on the

current 90%

of parents with a diagnosis that going on for a termination, this will result in

92 more Down Syndrome foetuses being aborted each year.

Given there were

717 Down Syndrome live births in 2013

, this will result in a

13% decrease in live births for Down Syndrome

– have a

profound effect on future numbers of people with Down Syndrome in the population

.

Other advocacy groups for people with Down Syndrome have voiced their concerns about the proposal (

http://www.theguardian.com/society/2015/oct/17/living-with-downs-syndrome-hes-not-list-characteristics?CMP=share_btn_fb

),

The consultation has

failed to meet UK's obligations under United Nations Convention on the Rights of Persons with Disabilities

(CRPD) – see press release and submission.

Coincides with report from

International Bioethics Committee ​(IBC​) of the United Nations Educational, Social, and Cultural Organisation (UNESCO​) issuing stern warning

about the adoption of NIPT in national screening programmes (

http://unesdoc.unesco.org/images/0023/002332/233258e.pdf

).

In addition to concerns around disability, IBC also list

concerns around gender-selective abortion

– as NIPT can be used to detect the gender of the child.

Stop Gendercide

have made a submission to the committee on this issue (

http://www.stopgendercide.org/cfdna-sex-selective-abortion-concerns/

).

NSC cfDNA review summary

shows an economic analysis of the proposal and

lists costs per a trisomy detected as an important factor to consider

. This is

expected to reduce from £14,472

to

£14,265

Private availability of

cfDNA testing has already been blamed for a 34% increase in numbers

of foetuses aborted with DS and other disabilities in three years.

National Screening Committee member Jane Fisher

is also Director of Antenatal Results and Choices (ARC) who have

just announced a corporate partnership

with Natera, a supplier of the Panorama NIPT screening test:

http://www.arc-uk.org/news/193/29/Natera-becomes-ARC-s-latest-partner/d,news-detail

. This is an addition to their 'partnership' with

other NIPT testing providers

:

http://www.arc-uk.org/support-us/partner-with-us/current-corporate-partners

NIPT techniques will

shortly allow for the testing of the entire human genome

, and the targeting of fetuses for abortion based on a range of illicitly considered characteristics

The future

market for testing could exceed $6 billion in the US alone

–

http://www.forbes.com/sites/matthewherper/2014/02/28/the-market-for-dna-sequncing-based-down-syndrome-tests-could-exceed-6-billion/