We have to tell you something bad.
About what the doctor said.
You are not getting a brother or a sister.
It makes us sad.
This is the start of a children's book. It is not just any children's book but it was written by a mother looking for a way to explain to her young son why he didn't get a sibling after all. The writer aborted her unborn son after he was diagnosed with Down syndrome. This was in Holland in 2013.
More recently the second largest Dutch newspaper published a full-page article titled: "LOVE GOES DEEPER THAN GIVING LIFE", an interview with parents choosing abortion after Down syndrome was diagnosed.  The couple explains they wanted 'a healthy child'. According to them a child with DS will take up 80% of attention in the family, if not more, leaving less than 20% for siblings. The article goes on citing wrong numbers on abortions and other incorrect information and opinions.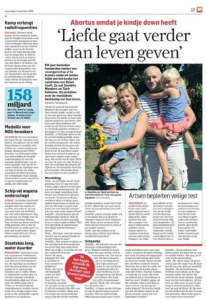 The Dutch Down syndrome society was silent.
The Dutch Down syndrome community felt the pain soon after the article appeared. Yes, this IS about our children. For decades we have been fighting for equality in a fight that is still an ongoing struggle. An article like this surely sets us back years. Only 7% of children with Down syndrome are included in mainstream education and Holland has not yet ratified the Declaration for Rights of Disabled Persons. The Netherlands is not a poor country struggling to feed or educate its' citizens. In fact Holland was ranked third richest country in the world in 2014.
Maybe this explains why the country is the first in the world considering to permanently fork our an estimated extra 100 million Euros per year to offer genetic screening aimed at Down syndrome as part of public healthcare. It does not explain why the country is so keen on enabling selective abortion after diagnosis. 74% of Dutch women choose to terminate after Down syndrome is diagnosed. Apparently this number isn't high enough to some and maybe this is why Dutch media 'informs' the public with negative stereotypical opinions instead of citing research on a population that proves people with Down syndrome do not suffer. In fact, people with Down syndrome and their families have an above average appreciation for life.
Holland is my country of birth. How I long for the country Emily Perl Kingsley describes in her essay in 1987 after her son Jason was diagnosed with Down syndrome after birth. A country of tulips, windmills and Rembrandt. How I long for the mild climate of love, acceptance and belonging that used to be part of Holland. But Holland is different now. It has become a place of prejudices, discrimination and death.
Times have changed folks. Stay on the plane and change your ticket.
About the author: Renate Lindeman is a Mother of two children with Down syndrome, Writer, Disability activist, A representative for Saving Down syndrome and spokesperson for Downpride. Renate is the former president of the NS Down syndrome society.